You Name It We Trade!
Are you looking to trade in your motorhome, fifth wheel, travel trailer, toy hauler, or camper for a newer model? Talk with our RV specialists to get the most value out of your trade-in. With our trade-in program, we'll help you get into the RV of your dreams.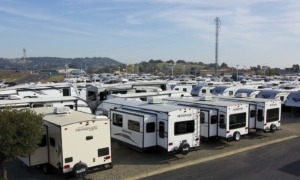 There are quite a few things that you can do to help increase the value of your trade in. Maximizing your trade in value will allow you to get your dream RV at a great price!
Appearance
Make sure to detail both the inside and outside of your RV to ensure it is in the best shape possible. If you really want your RV to be looking good, thing about getting it waxed.
Fix Any Issues
Make a list of all the issues with your RV, whether small or large. Take some time to do research and determine what makes sense to fix before trading in your RV. Spending a few hundred dollars up front could lead to a large increase in value.
Electrical
Be sure to check the battery compartment as well as the other electrical compartments. If necessary, purchase a new battery.
Last Check
Check all seats, compartments, and cabinets to ensure that they are both clean and most importantly, empty. The less work the dealer has to do, the more money your trade-in is worth.
Trade-in Value
Do some research to determine a realistic value of your RV. This will allow you to understand how much you may get for your RV and will give you some leverage in negotiations.
Aside from RV's, you can also trade in cars, trucks, motorcycles, ATVs, boats and MORE. Start your next RV adventure today with Cordelia RV!
Remember, anything of value to you may be value to us!