National Parks are precious, protected land that so that visitors will enjoy their natural wonder and preserve the natural beauty for all future generations. For these reasons most of the National Parks do not offer Full Hook ups service, although they do offer a spot to park your RV – Dry Camp- and enjoy the nature!
Great News is that the following National Parks offer full hookups for those long vacations!
Campground fees change each year. Please visit the campground web-pages to learn more. Some campgrounds also have a utility surcharge. Fees vary for electric hookups and full hookups.
1. Yellowstone National Park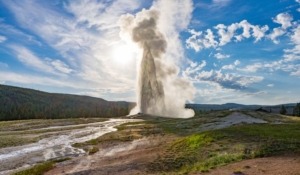 The perfect place to enjoy a long time vacation – The Yellowstone National Park – to see nature, the unique Old Faithful Geyser and the endless wild life encounters!
On March 1, 1872, Yellowstone became the first national park for all to enjoy the unique hydro-thermal wonders. Yellowstone's abundant and diverse wildlife are as famous as its geysers, with nearly 300 species of birds, 16 species of fish, five species of amphibians, six species of reptiles, and 67 species of mammals roaming the park.
Altogether, Yellowstone offers 12 campgrounds with over 2,000 sites. The only Full hookups campground is very limited and Yellowstone National Park Lodges takes reservations for it and other four. The rest are first-come, first-served. Good news! If there is any spot in the "full hookups" campground there are other campgrounds you can still park your RV! Just make sure to be prepared to "dry camp".
To Call the park Lodge in months in advance to reserve a spot will be always a good idea!
2. Grand Teton National Park
Grand Teton National Park where you can explore over two hundred miles of trails, float the Snake River or enjoy the serenity of this remarkable place.
The Grand Teton National Park Jenny Lake and Colter Bay have walk-in sites available. All campgrounds provide modern comfort stations. Signal Mountain Campground has one site with full hook-ups and 24 sites with electric hookups. Colter Bay RV Park and Headwaters Campgrounds & RV sites do have full hookups.
The maximum length of stay is seven days per person at Jenny Lake and 14 days at all other campgrounds – no more than 30 days in the park per year (10 days at Jenny Lake). The campgrounds operate on a first-come, first-served basis, advance reservations are not accepted. Reservations are accepted for group camping, the Colter Bay RV Park, and the Headwaters Campground & RV Sites at Flag Ranch.
3. Grand Canyon National Park
The Grand Canyon National Park is the unique combinations of geologic color and erosional forms decorate a canyon that is 277 river miles (446km) long, up to 18 miles (29km) wide, and a mile (1.6km) deep. Grand Canyon overwhelms our senses through its immense size. It offers Full RV Hookups inside the Grand Canyon! Located in Grand Canyon Village on the South Rim, Trailer Village is a concessioner operated RV park with full hook-ups. It is open all year!!!